Order 'Thirst for Cum' on DVD! Click Here to watch the trailer

'Thirst for Cum' is the biggest blowbang in years, with 17 guys participating in the throat fucking of Adriana Chechik. Anybody that knows Adriana's work knows what a stellar performance she puts in and she is loving every minute of her cock sucking frenzy.

'Thirst for Cum' isn't for the faint of heart. It has throat fucking, slobbering, spitting, slapping, choking, hair pulling, facials, cum eating/swallowing, and more! Adriana goes all out for this awesome scene.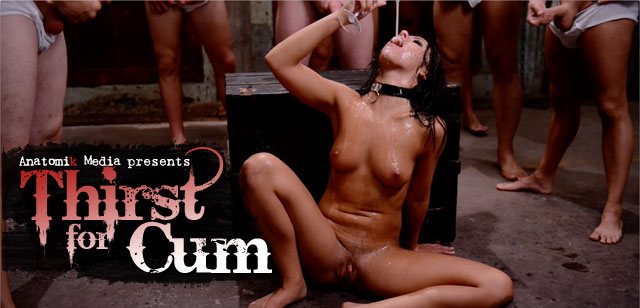 Blowbang Fetish DVD
Adriana starts with a slow tease for a couple minutes and then snaps her fingers. 5 guys walk in wearing ski masks and tidy whities and form a circle around her. She instructs 2 guys to worship her feet. They begin to lick and kiss her feet. She then instructs 2 more guys to take a tit each and they begin sucking on her tits and tweaking her nipples. She instructs the remaining guy to eat her pussy.
This soon leads to Adriana getting on her knees and putting the 5 cocks in her mouth, sucking each one like there's no tomorrow. She carries around a martini glass to fill up with all of the spit generated from the deep throating and plans to drink it when it's full. But this isn't enough… she needs more.
She snaps her fingers again and a total of 17 guys in ski masks appear. Adriana teases each one a little bit and then gets to work, systematically sucking each cock until they have all had their turn.

Special thanks to the 17 guys that were part of the blowbang extravaganza. They were paramount to the success of our fetish dvd: Nick Manning, Dick Chibbles, Flynt Dominick, Eric John, Romeo Mancini, Chad White, Dirk Styles, Alex Jones, Chad Diamond, Ezra Grey, Henrique, Scott Lyons, Tony Martinez, Rusty Nails, Filthy Rich, Jamie Stone, Mark Zane. Thanks so much guys!