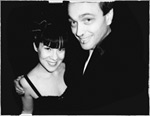 Who are we?
We are a husband/wife team in Los Angeles, offering unique custom fetish videos and adult content to webmasters and publishers of erotic and adult entertainment. Our best work is in the sub-niche categories that cater to very specific interests. Our work has varied from tattooed/alternative, art/erotica, amateur, EXGF, Femdom, public nudity and other various fetishes.
We enjoy producing quality work for our clients and hold high standards in production values. We are friendly! Feel free to email us for more information. If you are a model, please contact us to see what kind of projects you could be a fit for.


What are your rates?
Our rates vary according to the type of content requested. Most of our clients are seeking very specific detail-oriented content that require individualized treatment so there really is no set pricing. We work with our clients needs to create affordable packages that their members and fans will love. Please be as specific as possible with your request for a quote as that will help us determine the best possible price for you.
Hey, what about those 2257 docs? Are they included?
For webmasters, all sets include scanned model IDs, ID pics, and release docs – legible, clear, up-to-date documents that are verified by us and 100% legal. Private custom clients do not receive any documents related to the shoot or ID's. Anatomik Media retains the rights to all custom related work.
How do I send you the dough?
We accept Credit Card, Paxum, wire transfer, check and various other forms of payment. Contact us to see if your preferred method is available. Usually a deposit of 50%-100% is required. Exceptions can be made on an individual basis.
How do I get the goods?
Shoots can be downloaded from our server, uploaded to a server of your choice or mailed on dvd.
How long will it take?
Turnaround varies depending on model availability, amount and type of content requested. Some shoots can be completed in a few days, some in 1-2 weeks or more. We will keep you updated as to when your shoot will occur.
Can I alter the images?
When you commission custom content, you can do anything you like with the images except resell. Contact us for reseller rights.
What formats do I get when ordering a video?
Custom video shoots will come in the format of your choice. Basic editing is included with each scene. Special editing is available by request… music, titles, etc.