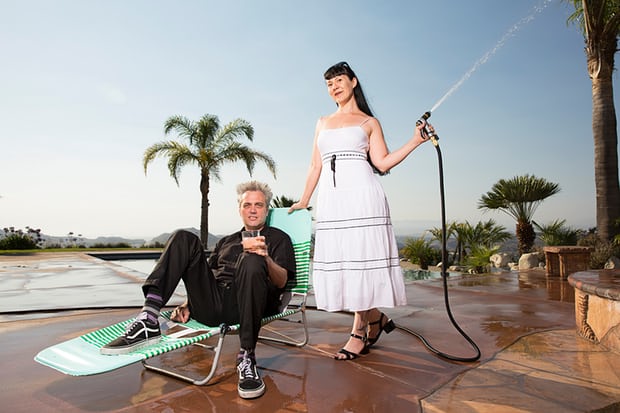 photo courtesy of The Guardian
Who are you, and what are you doing here!?
We are Dan and Rhiannon, a husband/wife production team in Los Angeles. We offer unique custom video services, fetish videos and adult content to collectors, webmasters and publishers of erotic and adult entertainment. Our best scenes are in the sub-niche categories that cater to very specific interests. Our work has varied from extremely wild to extremely tame and everything in-between.
What are your rates?
Our rates vary according to the type of content requested. A lot of factors go into a production and each request is unique. Most of our clients are seeking very specific detail-oriented content that require individualized treatment so there really is no set pricing. We work with our clients needs to create affordable packages that they will love.
CUSTOMS FAQ
Do I have to write a script?
Nope! If you have a script, great, if not, just give us the main idea and we'll ask questions to fill in the details.
How long will it take?
We are typically booked out 1-2 months in advance, so getting in the queue as soon as possible is advised if you are looking for a quick turnaround.
What resolution is my video?
We shoot everything in 4k and provide you with the 1080p file. If you would like the 4k version of your custom, please let us know.
How do I get the video?
We will send you a download link via email when your video is ready. For a additional fee, we can also send it to you on DVD.
What format is the video?
We typically use the MP4 format but can send in any file type you need.
How do I send you the dough?
Our favorite question! We accept a variety of payment options such as credit card, wire transfer, check, etc. Contact us to see if your preferred method is available.
ADULT CONTENT FAQ
How long will it take?
Turnaround varies depending on model availability and scheduling. Some shoots can be completed in a few days, some in 1-2 weeks or more. We always keep you updated as to when your shoot will occur.
What payment options do I have?
We accept Credit Card, wire transfer, check and various other forms of payment. Usually a deposit of 50%-100% is required. Exceptions can be considered on an individual basis.
How do I get the goods?
Shoots can be downloaded from our server, uploaded to a server of your choice or mailed on dvd.
What formats do I get when ordering a video?
Shoots will come in the format of your choice. Basic editing is included with each scene. Special editing is available by request… music, titles, etc.
Hey, what about those 2257 docs? Are they included?
For webmasters, all sets include scanned model IDs, ID pics, and release docs – legible, clear, up-to-date documents that are verified by us and 100% legal. Private custom clients do not receive any documents related to the shoot or ID's. Anatomik Media retains the rights to all custom related work.
Can I alter the images?
When you commission custom content, you can do anything you like with the images except resell. Contact us for reseller rights.
DVD STORE FAQ
Do you accept money orders?
Yes! If you would like to purchase a DVD with a money order, please contact us for the address to send your payment to. We also accept credit card, wire transfer, and Paxum. You can also send well-concealed cash, but we do not recommend that.
Can you ship internationally?
Yes! We will ship to anywhere in the world.
I have a question about my order – who can I contact about that?
Please contact info@anatomikmedia.com for any questions regarding your order.
When will my order arrive?
All orders are shipped within 48 hours, usually sooner. Friday orders are shipped on Monday. USPS Media Mail takes about 2-8 business days, depending on your location. Please allow up to 3 weeks for international orders. If you haven't received your order within this timeframe, please contact us for status.
Can I cancel my order?
We can cancel your order as long as it hasn't shipped yet. Contact us if you need to cancel your order.
Need to return or exchange?
We accept returns if your DVD arrives broken. Please contact us for details regarding exchanges and returns.